As some of you know, I am a huge fan of Southern Tier and their beers. My wife and her friends organized a trip for us to go and visit Southern Tier Brewing Company this past Saturday. (I am a very lucky guy)
I've been on a quite a few brewery and distillery tours in the past. I must say that Southern Tier has one of the cleanest facilities I have ever been to.
(No idea who that guy is in the picture)
The bar has all of the usual ST beers on tap, and two (a Belgian Witt and some lager?) that they only sell at the brewery - which is fine because I honestly was a big fan of those two.
The best was Pumking on tap. Way better than Pumking in the bottle. Much less of that in-you-face pumpkin pie taste that you get when you get it from the bottle.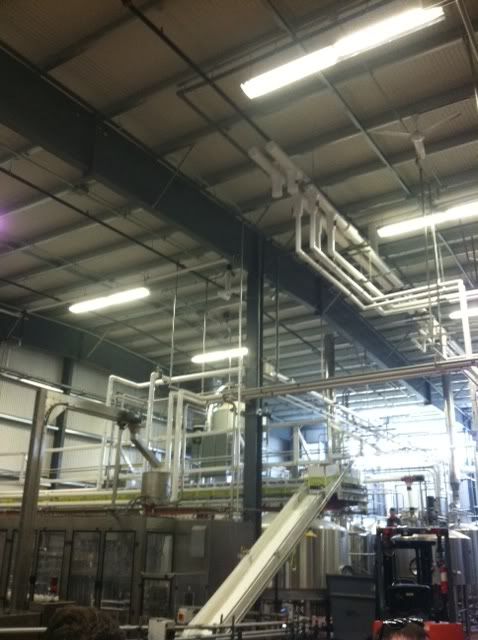 ST must be doing well, as the tour guide stated that they are expanding their operation. The staff was really cool. They passed around samples of hops, malt, barley - and some people ate the ingredients while we were on the tour.
Best part about the tour, of course, was the sampling. The tour guide let us try all different types of ST beers, including the 2xipa, creme brulee stout, and even let us try a new beer coming out this holiday season, 2xmas.
2xmas tastes like your typical holiday beer, with hints of orange and nutmeg. I don't think its a replacement for Old Man Winter.
After the tour, we had lunch on the outdoor patio where they had a band playing and we stocked up on some growlers. Great way to spend a fall afternoon.