The Untouchables are about to break me - my desktop humidor is practically overflowing with all the bombs they have dropped on me in the past week. This time it came in the form of a very nice bomb from the Skipper.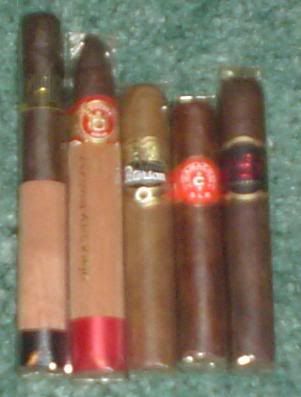 From left to right:  
-Ive actually never seen the first stick. My pic came out blurry, but it has a large gold G and vertical gold stripes - can anyone tell me what it is?
- A Fuente Anejo
- Peterson Gran Reserva
- Camacho SLR
- Diablo Picante  
Thanks a bunch, Skipper, I really appreciate it. I cant wait to smoke these babies, especially that Anejo, which Ive been very eager to try.