05-09-2012, 06:27 PM (This post was last modified: 05-09-2012, 10:02 PM by Clarinetist.)
There's something really special about a cigar that can motivate a guy who has 8 final exams within the next 12 days to stop and attempt to write a review about said cigar. Especially when he has never been bothered to undertake such a writing previously. And even yet more special when such a cigar motivates that same man to buy what would at that time be only his fourth box purchase of cigars in his 5 years of cigar smoking, and after spilling out over a hundred bucks for the cigars you'll find in the Cigar P0RN 2012 thread at post #412..while on a part-time income attending college with 18 credits this semester.
Four Kicks, from Crowned Heads (working with E.P. Carrillo) is just that cigar. My favorite local shop, Metro Cigars in Germantown, WI got in as one of 66 (so I've been told) retailers that can carry this cigar, capped at a first production run of 30,000, as far as I know.
I picked up three of these a few weeks ago, just out of curiosity and because they were new. I didn't take a picture before I started smoking this cigar, because to be honest, I didn't expect that much out of it. I just
wanted to get somthing medium in before I hit up one of the Feral Pigs or T52s I got on monday.
Construction wise, this cigar was superb, in and out. Perfect cap, complete uniformity throughout, and an excellent burn that never required me to divert my energy away from anything other than my enjoyment of the smoke. The draw epitomized what a cigar's draw should be, and the overall appearance of the wrapper was pretty good in my eyes. Not as oily as I like to see, or have seen in other pictures of it, but there was definitely a nice sheen to it that doesn't really show in my iphone pictures of it. The cigar felt nice and smooth, there were lots of little veins that you could just barely see but not feel, and no hard veins that stood out or that you could catch with an errant fingernail.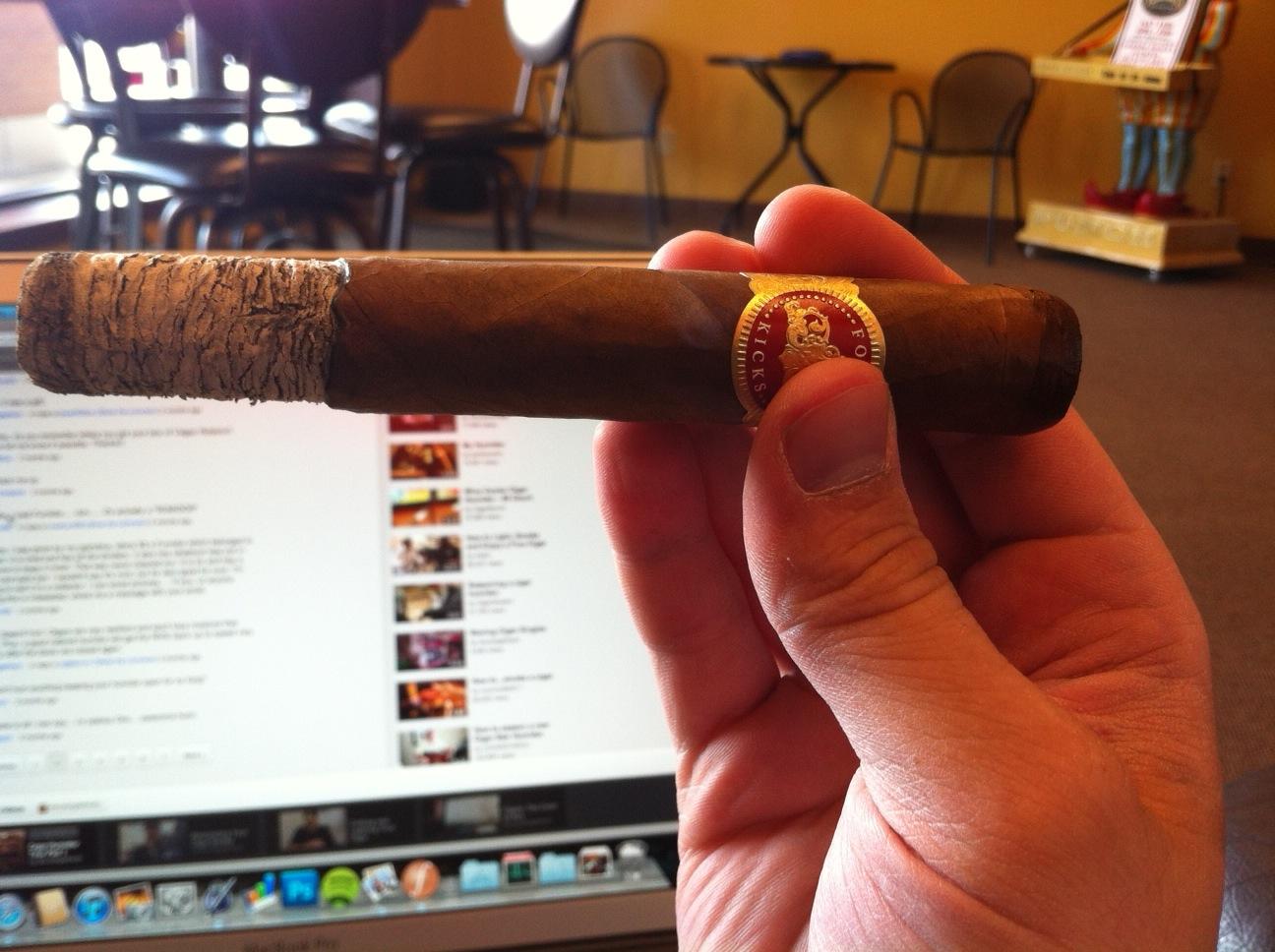 The ash held nice and long, and through the whole cigar I only ashed twice. So I have to give it some points for the fun factor of having a long ash, especially when it happens without any special attempt. In fact, I probably would have ashed all over my laptop several times
(Sidenote:if I ever open this thing up to clean it out, I better do it outside, cause this things gotta have about a pound of cigar ash in it by now
)
if it weren't for the strong ash, because I found myself so relaxed I kept forgetting, and would be regularly surprised by the size the of ash.
The Four Kicks grabbed my attention from the get go with an onslaught of creamy coffee and a hint of what I would consider an orangey citrus. At no point in the cigar did I ever pick up any pepper, whatsoever - a stark contrast from many of the cigars I've been smoking as of late. In fact, if I were to attempt to characterize this cigars flavor in one phrase, it would have to be "Rich, sensuous, creamy coffee, with a little nutmeg here and there, and a sumptuous sweetness that always returned at just the right time."
Now, you would surely be right to laugh at such a horrible attempt at making a short, descriptive phrase. The truth is, it's difficult, because this cigar had complexity down to ascience. I stayed engaged at every point in the smoking experience.
My ability to describe the many intricacies of a cigar flavor in distinct, concrete flavor terms is still developing, but in this cigar the way the flavors developed and pronounced themselves throughout left no dull moment for my tantalized palate. About 3/5 through after the first ash, I grabbed a hint of cinnamon and sweet vanilla, which quickly developed into a solid cocoa powder. Woody notes prevailed often, but never overshadowed the overall creaminess. For someone who enjoys stronger bodied cigars with maduro or oscuro wrappers most of the time, I was shocked at this medium bodied, medium flavored cigars ability to not only hold my interest but truly please me.
The ash continues to hold well through the second third of this "Sublime" size cigar. (6X54)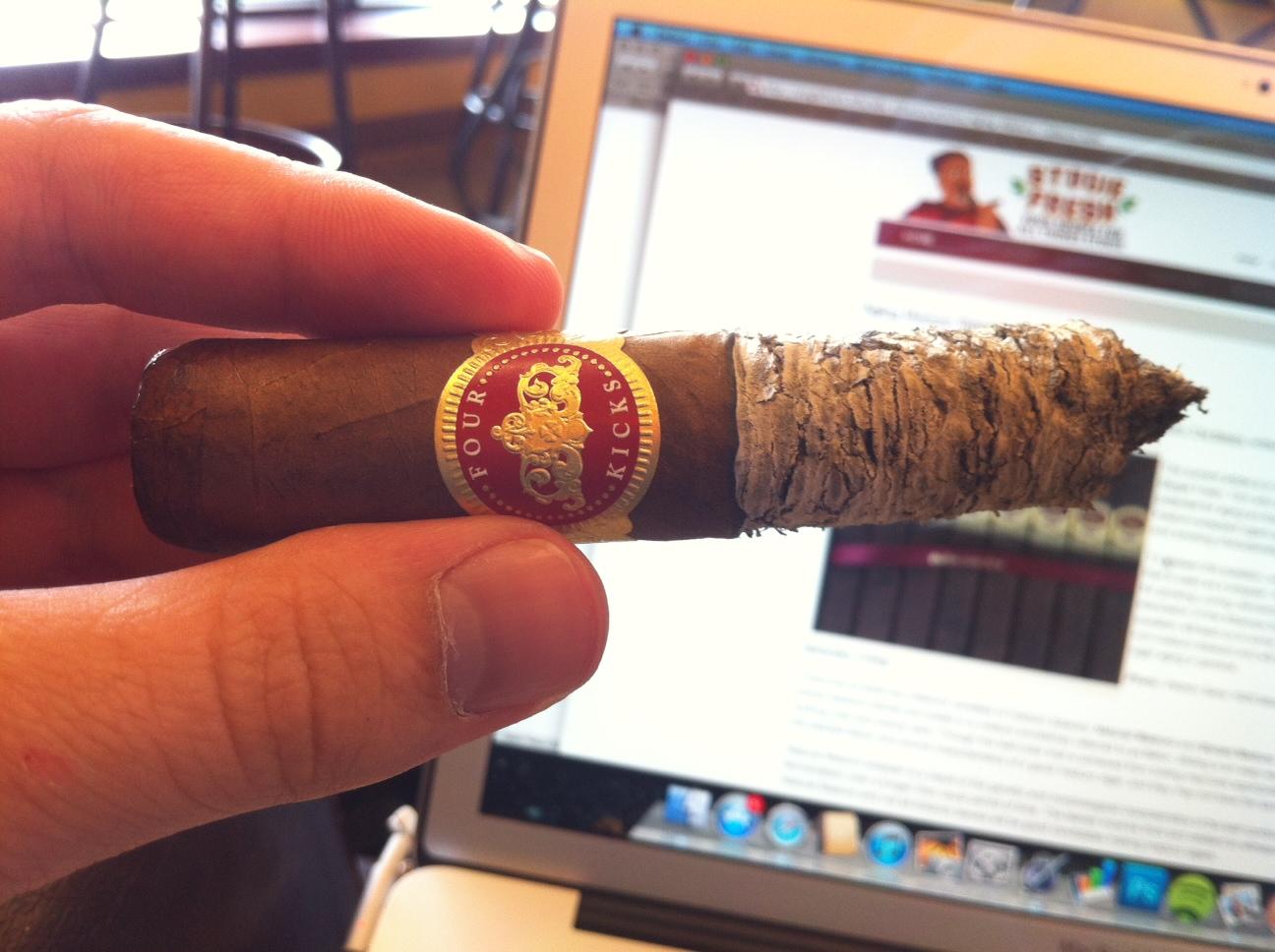 But as with many of the best things in life, it does eventually come to an unexpected end, as I neglected it a bit too long while writing this!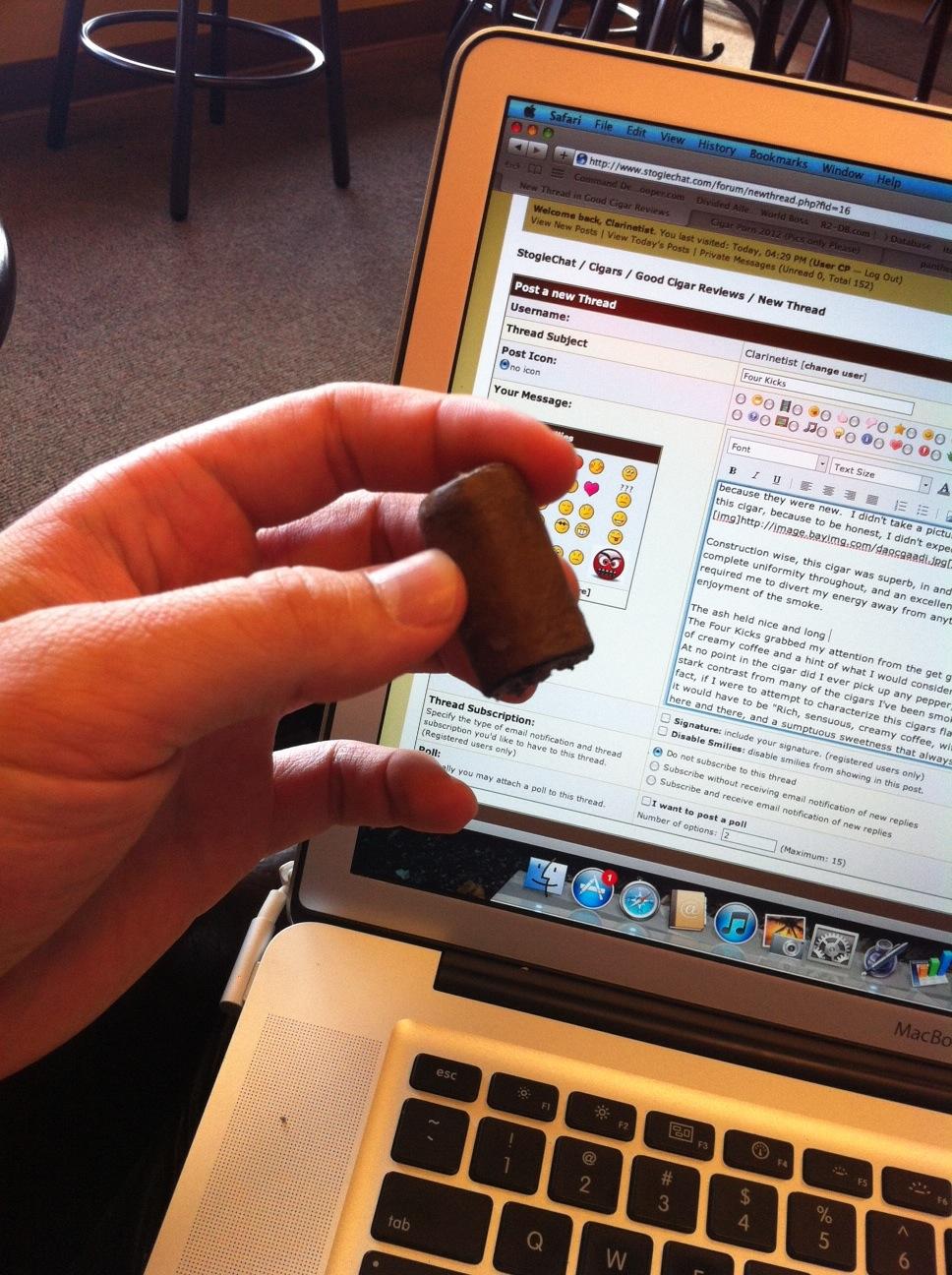 All in all, if I was forced at the threat of death to say something that could be better about it, I would of course wish for an even stronger flavor. But, that would truly be a bit of heresy, since the flavors in this cigar worked so well together and deliver a great experience for what it is - a medium bodied, medium flavored cigar. (At least from my perspective, someone who only smokesmilder cigars might very well get a kick in the arse from it, but it would surely be a welcome one.)
Are they sure they didn't mean to describe the whole cigar with size?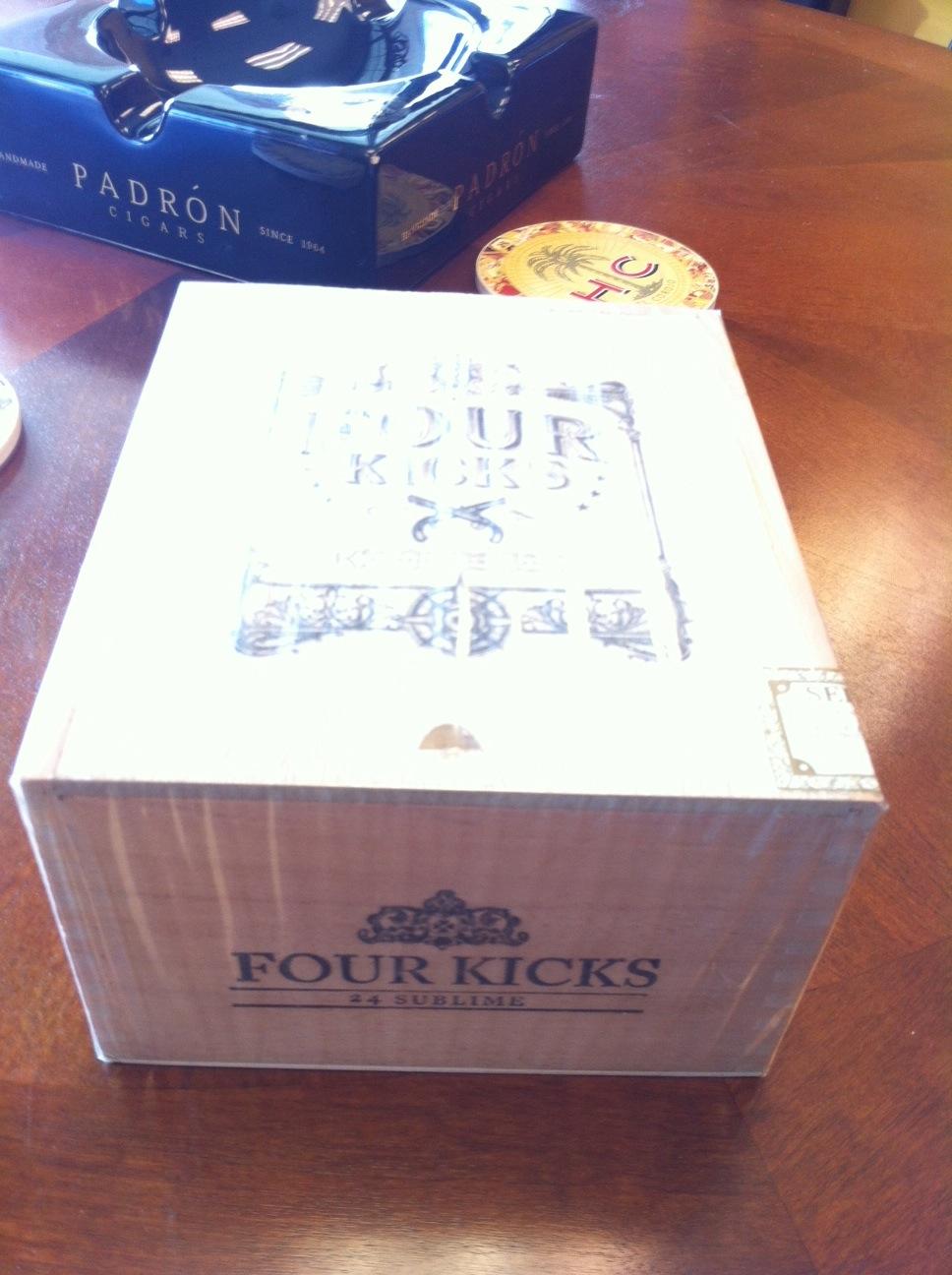 I hope whoever had the will to read through this 931 word review enjoyed it. I hope that if any of you try one, you enjoy it as much as I did.
All the best, as always,
Clarinetist (Scott)